Feiten over voeding
Porties per verpakking:
8
Hoeveelheid
per portie
% dagelijkse
hoeveelheid
(DV)
Calorieën
5
Totaal vetten
0 g
0%
Verzadigd vet
0 mg
0%
Transvet
0 g
Cholesterol
0 mg
0%
Natrium
5 mg
<1%
Totaal koolhydraten
1 g
<1%*
Voedingsvezel
0 g
0%
Totaal suikers
0 g
Inclusief 0 g toegevoegde suikers
0 g
0%
Proteïne
0 g
0%
Vitamine D
0 mcg
0%
Calcium
34 mg
2%
IJzer
0 mg
0%
Kalium
65 mg
2%
Ingrediënten:
Biologische aloë vera-sap (aloe barbadensis) (binnenbladgel), Citroenzuur, Kaliumbenzoaat (conservering)
Uitleg:
Volwassenen, 118 ml 1 tot 2 keer per dag, bij voorkeur tijdens de maaltijd. Aloë vera-sap kan met andere sappen worden gemengd tot een heerlijk drankje of over ijs worden gesprenkeld als een verfrissende smoothie. Goed schudden voor gebruik.
LET OP:
Indien het zegel is of ontbreekt, moet u het product niet gebruiken. Buiten bereik van kinderen bewaren. Ongeopende houder koel en droog bewaren. NA OPENEN GEKOELD BEWAREN
Overige informatie:
Door natuurlijke variaties in aloë vera-planten kan de kleur, smaak en consistentie van partij tot partij verschillen. Dit heeft geen gevolgen voor de werking of de kwaliteit van het aloë vera-sap.
* Percentage van dagelijkse hoeveelheid is gebaseerd op een inname van 2000 calorieën
Andere maten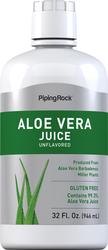 Gerelateerde producten